Mountain Tree een vertrouwde fabrikant van filtermedia en vijvertoebehoren en geruime tijd sponsor van de R&R Koi treks
Kenners zijn al jaren bekend met Mountain Tree producten, maar weet iedereen ook dat het bedrijf eigenlijk een groothandel uit China is die opgericht werd in 2008? Deze groothandel beschikt over een enorme research en development afdeling die regelmatig nieuwe producten in de markt zet. Na eerst een goede positie veroverd te hebben op de Aziatische markt wordt deze groothandel met hun productassortiment nu ook een belangrijke speler op de Europese markt.
Mountain Tree, available all over the World
Overigens zijn zij in Amerika en Australië ook al flink aan de weg aan het timmeren. Mountain Tree filtertechnieken en materialen worden niet alleen toegepast in vijvers maar ook in meren en natuurparken.
We kennen hen door de bekende filter media die zij in Europe leveren maar in Azië doen zij nog zoveel meer. Daar kent "iedereen" het bedrijf door filtratie- en monitoring systemen voor vijvers en aquaria die zij leveren. Door middel van de monitoring systemen kunnen verschillende waterwaardes, die het leven van onze koi beïnvloeden bewaakt worden.
In Europa zijn zij echter zoals gezegd bekender door de paaiborstels, beluchtingsringen, filter matten, UV-lampen en de bekende verstelbare skimmers in verschillende soorten en maten die bladeren en voer weghouden van de afvoer en kleine koi behoeden voor een duik naar de zeef of trommelfilter.
Mountain Tree filter media hebben een enorm aanhechtingsoppervlak
De filter media onderscheiden zich door een enorm groot aanhechtingsoppervlak voor de zo belangrijke (nitrificerende) bacteriën in onze onmisbare filters. Dat aanhechtingsoppervlak is dan weer niet alleen zo groot in de keramische media maar ook bij de matten en het foam is dit vele malen groter dan bij andere merken. Om maar eens even met wat cijfers te strooien de zo geheten Lotus Root Spiral bacteria House heeft een aanhechtingsoppervlak van maar liefst 5,292 m² per liter oppervlakte.
Het Mountain Tree assortiment bevat perfect op elkaar afgestemde producten die het (vijver)water perfect schoon houden en de koi en andere vissen een lang, gezond leven laten leiden. Zoals zij het zelf stellen:
"Bescherm uw water en vissen tegen besmetting en zorg voor een gelukkige levensduur voor uw water en vissen"
Meer informatie kun je vinden via de Mountain Tree website.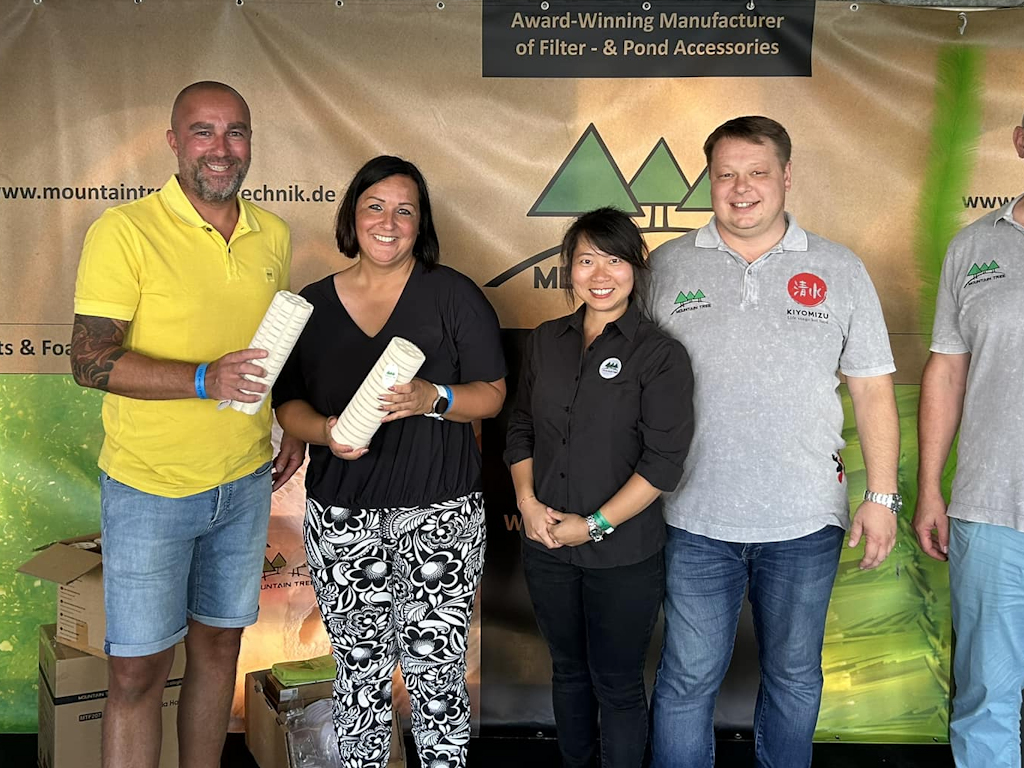 Mountain Tree a trusted manufacturer of filter media and pond accessories
Connoisseurs have been familiar with Mountain Tree products for years, but does everyone know that the company is actually a wholesaler from China founded in 2008? This wholesaler has a huge research and development department that regularly launches new products on the market. After first gaining a good position in the Asian market, they are now also becoming a major player in the European market with their product range. Incidentally, in America and Australia, they are already making good progress. Mountain Tree filter techniques and materials are used not only in ponds, but also in lakes and nature parks.
Mountain Tree products, available all over the World
We know them through the well-known filter media they supply to Europe, but they do so much more in Asia. There, "everyone" knows them through filtration and monitoring systems for ponds and aquaria that they supply. Through the monitoring systems, various water values that affect the lives of our koi can be monitored.
In Europe, however, as mentioned, they are better known for the spawning brushes, aeration rings, filter mats, UV lamps and the well-known adjustable skimmers in various shapes and sizes that keep leaves and food away from the drain and keep small koi from diving into the sieve or drum filter.
Mountain Tree filter media has an enormous attachment surface
The filter media are characterised by a huge attachment surface for the all-important (nitrifying) bacteria in our so important filters. This surface area is not only large in the ceramic media, but also many times larger in the mats and foam than in other brands. To throw some figures around, the so-called Lotus Root Spiral bacteria house has an attachment surface of no less than 5.292 m² per litre of surface area.
The Mountain Tree range contains perfectly matched products that keep (pond) water perfectly clean and allow koi and other fish to live long, healthy lives. As they put it themselves:
"Protect your water and fish from contamination and ensure a happy life for your water and fish".
More information can be found on the Mountain Tree website.